The Holidays are upon us, friends, and consumers are ready to spend.
The average buyer in America begins their holiday shopping in October by scoping out prospective gifts and deals until the official launch of Black Friday.
According to a survey conducted by the National Retail Federation (NRF), 174 million consumers took advantage of Black Friday and Cyber Monday (BFCM) deals in 2018, bringing in a collective $7.2 billion during the holiday weekend.
Moreover, the NRF claims that holiday sales represent up to 30 percent of annual retail sales, making it the most profitable time of the year for online store owners.
We actually made this nifty infographic for you to see how valuable a BFCM campaign can be to you.

So to make sure you have the most successful kick-off to the holiday season, I've devised a Black Friday Weekend Action Plan for you to implement this season.
In this article I'll show you how to:
Prepare your store for increased traffic
Set up your offer
Develop your pre-launch campaign
Carry out your Black Friday and Cyber Monday (BFCM) campaign
How to Prepare Your Store for Increased Traffic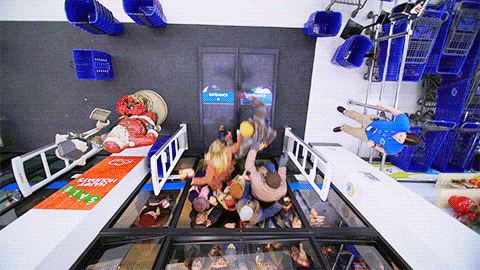 I could cover a thousand ways you could optimize your store for the flood of traffic that's to come.
But it would be a waste of time solely because of how long it will take to implement.
So for the sake of brevity and ease of application, I'm going to show you strategies that will have the most significant impact during this holiday weekend.
First Step: Optimizing Your Store's Design
Your store's design heavily influences a customer's decision to purchase a product from you.
If your site has poor usability or isn't mobile responsive, then your sales will be sacrificed.
Since the topic of store design is so broad, I'm going to mention the most crucial components you should have perfected:
Usability
Mobile responsiveness
Placement of sections on your site
Usability
The usability of a website measures the level of ease that a visitor can navigate a site and achieve an objective.
If the usability of your site blows, so will your conversions.
88% of online consumers are less likely to return to a website after a bad experience, so site usability plays a massive role in your business's success.
You can strengthen the site's usability in 3 ways:
Thorough organization
Reduced scrolling and page sifting
Minimizing distractions
Organization is a Top Priority
When you're setting up your store, you need to organize it strategically.
Your visitors will thank you, and you'll see their gratitude through increased engagement on your site.
Arrange each product into a collection of related products and arrange each collection by product type.
These collections should be readily available as a dropdown in your navigation menu.
Display your collections on the homepage so your visitors can quickly scan the products they'd be interested in by collection type.
Reduce the Amount of Scrolling and Sifting Through Pages
Shoppers value their time more than anything, especially when they have a list of stores they have to visit in a limited amount of time.
Don't waste their precious time by placing sections on your store that doesn't provide value.
Each element on your store should have a purpose; every banner, collection, section of text, and image should add value to your customer's shopping experience.
For example, I always see stores splitting up content by using banner images that have no sales copy, call to action, or valuable content related to their products or collections.
Most of the time, it's a banner of a stock image that is unrelated to the store or its niche.
These insignificant sections won't lead to sales, and it increases the amount of scrolling your customers have to do to reach the sections of content that will drive sales.
So optimize your space wisely 🙂
You also want to make sure your store is set up in a way that customers can reach the checkout page in 2-3 clicks from the homepage.
I often see store's catalogs lead to a separate page for customers to select a product category TO THEN be taken to a catalog page of products within the selected category.
Confusing, right?
It's much simpler to have a dropdown of collections from the navigation menu so your customers can select the collection they want to view from whatever page they're currently on.
Close Every Sale with an Easy Checkout
Making your store's checkout process as simple as possible is vital for getting customers to complete the purchase.
Don't force your customers to create an account to make a purchase.
Remember how much they value their time!
Allowing guest checkout is the first step to optimizing your checkout process.
The second step is to allow as many payment options as you can; you should accept Paypal, Amazon Pay, Google Pay, and Apple pay just as you do with credit card payments.
The third step is to reduce the number of fields a customer needs to fill out to make their purchase.
Ask for the bare necessities only.
The more fields that appear on a form decreases the likelihood that a customer will fill them out.
Meaning the less likely they'll be to go through the checkout process.
Mobile Responsiveness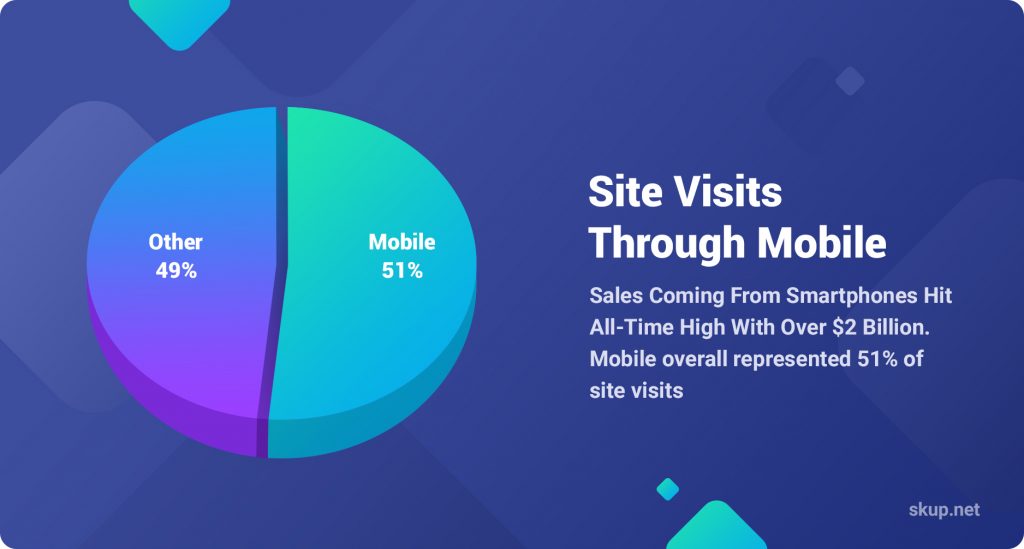 Did you know that $2,000,000,000 of total sales came through mobile devices on Cyber Monday last year?
The whole weekend brought in well over $4,000,000,000 in sales just from mobile devices.
This is why it's critical to make sure you're store is properly set up for shoppers coming to your store through a mobile device.
Any website can scale down to fit within the contents of a mobile screen, but if the elements aren't responsive when they scale down, then your efforts are futile.
A site is mobile responsive when:
The zoom function isn't required to read text or view an image.
Buttons and links retain their functionality
There is adequate spacing between elements on the page
Moreover, a site that's not mobile responsive can drive customers away.
Additionally, 57% of internet users say they won't recommend a business that has a poorly designed website on mobile
So, to ensure you don't scare potential customers away, here are a few ways to make sure your site is mobile responsive:
All you have to do is enter your URL, and Google will analyze your pages.
Once it's done analyzing, Google will report back with any errors, the weight of its impact, and ways to fix them.
Install a Mobile Responsive Shopify Theme
Each theme in Shopify's theme store is mobile-friendly; however, not all of them are mobile responsive.
So make sure you're checking the list of features within the theme's description. If the theme is mobile responsive, it will be listed there.
Minimizing Distractions to Encourage Sales
The main goal of your store's set up is to get shoppers to convert to customers within each session.
Don't distract your customers by allowing them to add an item to a wishlist or share the page on social media.
9 times out of 10, your customers won't come back to purchase, and you'll end up with a graveyard of could-be fulfilled products stagnantly sitting in some unused account.
I'm one of those people who wishlist, bookmark, share, and do whatever else is physically possible to 'come back' and purchase later.
I never do.
You should see my bookmarks bar.
It's criminal.
So remove distractions and get those purchases!
Additionally, you want to make sure you have a tasteful amount of 'conversion-boosting' elements throughout your store.
Pop-ups, scarcity tactics, buttons, banners, and an excessive amount of copy can assault your users and tank your sales.
If you want more information on proper design and set up for a Shopify store optimized for sales, check out our free PDF download, the Shopify Conversion Checklist!
This downloadable file breaks down each page of your site and shows you how to place sections throughout the pages to naturally navigate your customers to make a purchase.
In addition to planning out your stores set up and design, the free Conversion Checklist includes a myriad of apps, tools, and themes we recommend based on specific needs.
It's the perfect side-kick to this BFCM action plan, so download your free Shopify Conversion Checklist here!
Closing Sales Through Social Proof
As consumers ourselves, we know the weight a review can carry, which is why you need to include different forms of social proof on your store.
Stores that layer on different forms of social proof can establish credibility, form relationships with customers, and dominate sales more than those that stick to traditional testimonials.
So what are the options we have besides the conventional product reviews listed on the product page?
The first type I'd like to mention is off-site reviews.
Off-site customer reviews are testimonials that left on third-party sites.
These types of reviews allow you to impact buyers before they even reach your store.
Examples of third-party sites that provide off-site reviews are Google Customer Reviews and Trust Pilot.
Next up, user-generated content.
User-generated content (UGC) is the content that's created by your customers, and they take the form of social posts, videos, images, testimonials, podcasts, blog posts, etc.
The list can go on.
An example of a UGC campaign done right is Steve Madden's Choose Your Platform campaign.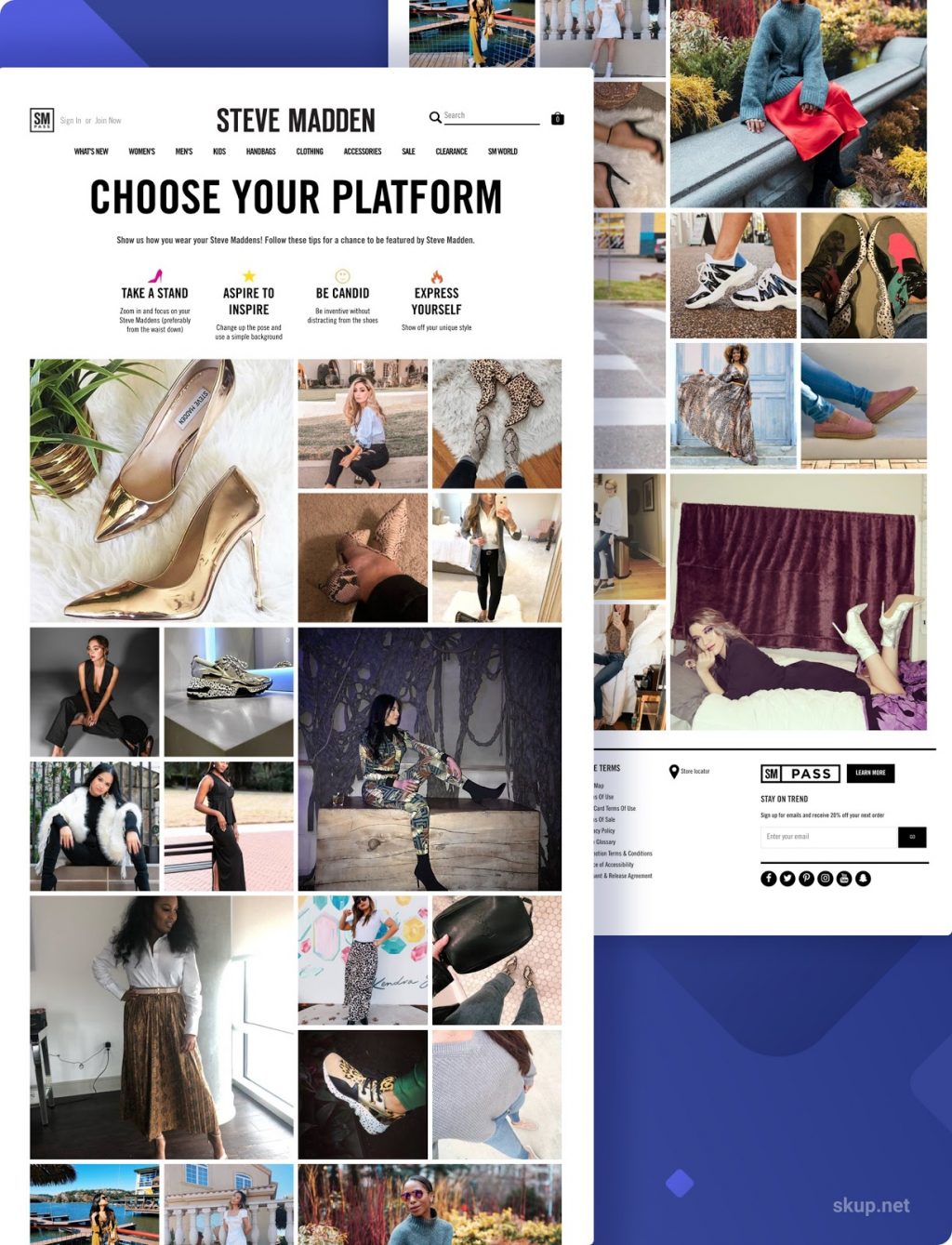 The Choose Your Platform campaign encourages customers to submit photos of themselves wearing their favorite style of shoes for a chance to be featured on the company's website and social media accounts.
It's an awesome strategy to increase engagement and strengthen relationships between a business and its customers.
UGC gives your brand a sense of authenticity and enhances your brand's personality by displaying the personalities of your customers.
The final form of social proof I'd like to address is a Q&A section.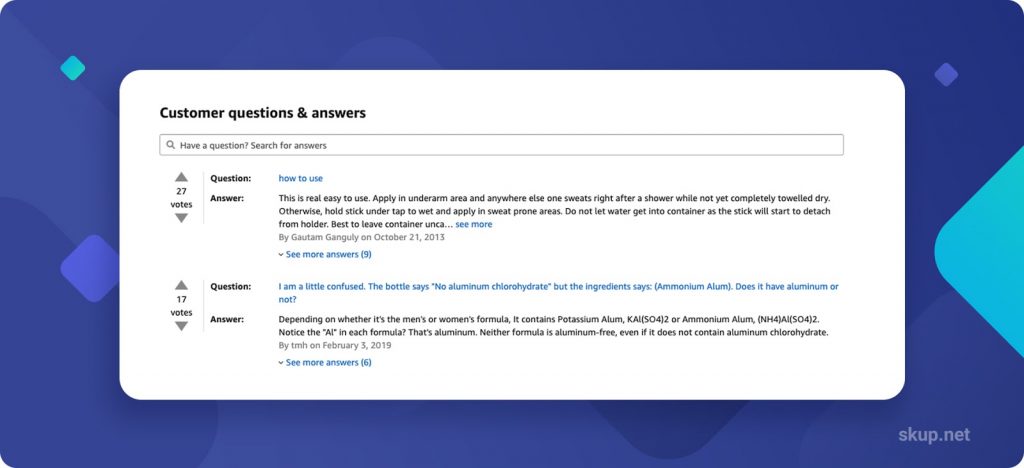 Having a responsive Q&A section on your product pages allows you to mediate any reservations your prospects may have.
Q&A sections also help your customers make quick decisions to purchase your product, and less likely to reach out and research your competition.
Overall, Q&A sections allow you to turn shoppers into customers during key-decision making moments.
Improving Your Sites Speed
Did you know that low site-speed is the most significant conversion killer?
46% of shoppers have said they'll never return to a slow website.
And the same goes for mobile, where 53% of visits are abandoned if the site takes more than three seconds to load.
If a site takes longer than 3 seconds to load, you've lost 80% of potential sales.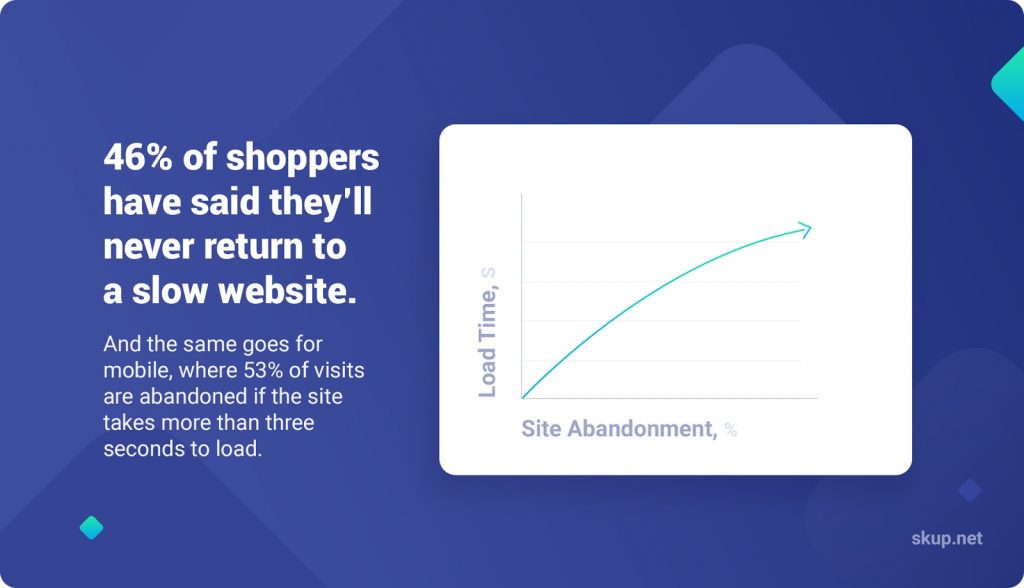 Some culprits to blame for the long load times of your site are:
3rd party apps
Overburdened API's
Too many images or videos
Traffic Spikes
And as we know, the traffic spikes this weekend are unavoidable; however there are measures you can take to ease the blow.
The first one being:
Use apps wisely.
Don't install every app that promises a 20X boost in sales overnight…
… Or the ones that guarantee 50 new leads the first hour you install it.
When you take this all-or-nothing approach, you overburden your store.
And it's not even necessary!
Most Shopify themes on the market have the same features that lead to the results these apps guarantee, directly built into their design.
The next way you can increase your site speed is to compress your graphic file sizes.
You can do this with an image optimizing app in the Shopify app store, or with a free tool such as EZGIF.
The only downside of the free tool is that it's time-consuming, so it's ideal only for stores with a few products.
Once you have implemented all of your optimization tactics, you can test your site's loading times through tools such as Pingdom or GTMetrix.
Measures to Prevent Cart Abandonment
Right now is most definitely not the time to let your customers abandon ship.
Of course, you should have an abandoned cart email sequence set in place.
Why?
Omnisend analyzed data from 15,000 brands and discovered that sending a series of 3 cart recovery emails resulted in 131% more orders compared to only sending one abandoned cart email.
However, why not take some preventative measures to avoid cart abandonment altogether completely?
Be Transparent with Shipping Times and Cost
One of the leading reasons consumers abandon carts is due to unexpected shipping costs and time of transit.
Being straightforward and transparent with these two topics in your product descriptions will eliminate any surprises once your customers reach the cart.
Allow Guest Checkout
I've already explained that allowing a customer to check out as a guest increases the usability of your site, but it also aids in making sales.
Customers who are new to your site may not know your brand well enough to go as far as to create a user profile with you.
Think of it as a first date, you wouldn't be asking a date to move in with you after dinner, right?
The same idea applies to your store.
Avoid any awkward friction, allow them to proceed through checkout as a guest.
Show Off Security Features
Approximately 15% of all abandoned carts occur because there are security concerns.
Installing trust badges and other security boosting features will help ease those worries.
Shopify provides SSL certificates to every store that runs on its site.
For those of you who don't know what that is, let me explain.
SSL is essentially the foundation of a secure internet, and it protects sensitive information that travels through to your store.
Credit card payments and other sensitive information remain safe through SSL.
So flaunt what Shopify gave you.
Preparing the Offer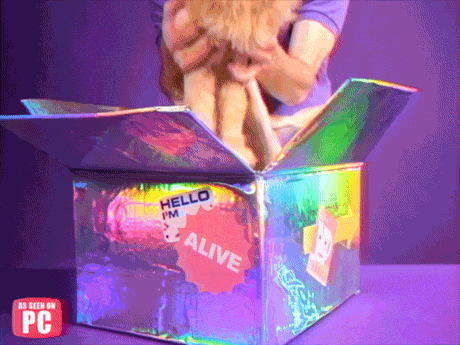 WE'VE ARRIVED AT THE MOST EXCITING PART!
… At least in my opinion.
So, most of you may be scurrying trying to find a product to sell specifically for this weekend.
And that shouldn't be your strategy.
In fact, most shoppers begin their holiday gift prospecting starting in October!
So whichever products of yours are currently gaining momentum will be the products to push during your BFCM campaign.
Optimizing Your Products
Although you already have your winning products, you want to make sure that they're as irresistible as possible.
There are a few ways to go about optimizing your products to get you more purchases.
Reducing Variants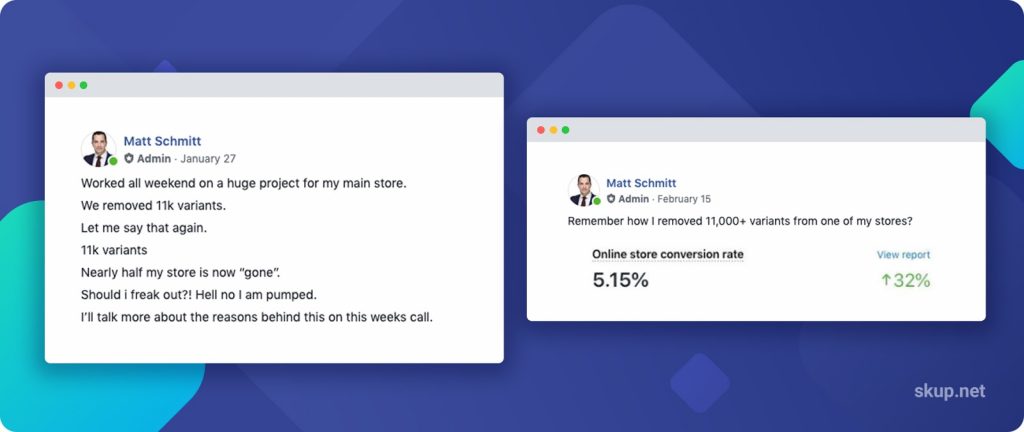 Sometimes a picture is worth a thousand words.
Or an extra hundred sales.
Our chief content officer Matt Schmitt was able to boost his sales by 32% simply by removing items on his store that weren't selling well
Have you ever heard of the paradox of choice?
Let me cover it briefly.
American Psychologist Barry Schwartz proposed this theory in his book, The Paradox of Choice.
Schwartz proposed that eliminating consumer choices can significantly reduce anxiety for shoppers.
Essentially, if you propose too many options to your customer, they'll abandon making a choice altogether, and leaving your store empty-handed.
So if you have a product that has more than 4 variants, whittle that baby down!
I know most of you are thinking that it's insane to remove options for your customers, but you're going to make their shopping experience much less complicated.
Enhancing Product Descriptions
Not all of us have the luxury of having a copywriter on staff to persuade some customers with killer descriptions.
And writing to sell isn't the most glamorous part of your job.
But you have to do it anyways.
However, consumer shopping trends are constantly changing, and the most significant conversion-boosting descriptions aren't focusing too much on words anymore.
Instead, you can push sales by using compelling images, videos, and step-wise instructions on how to use your product.
Let's take a look at Glossier's product descriptions.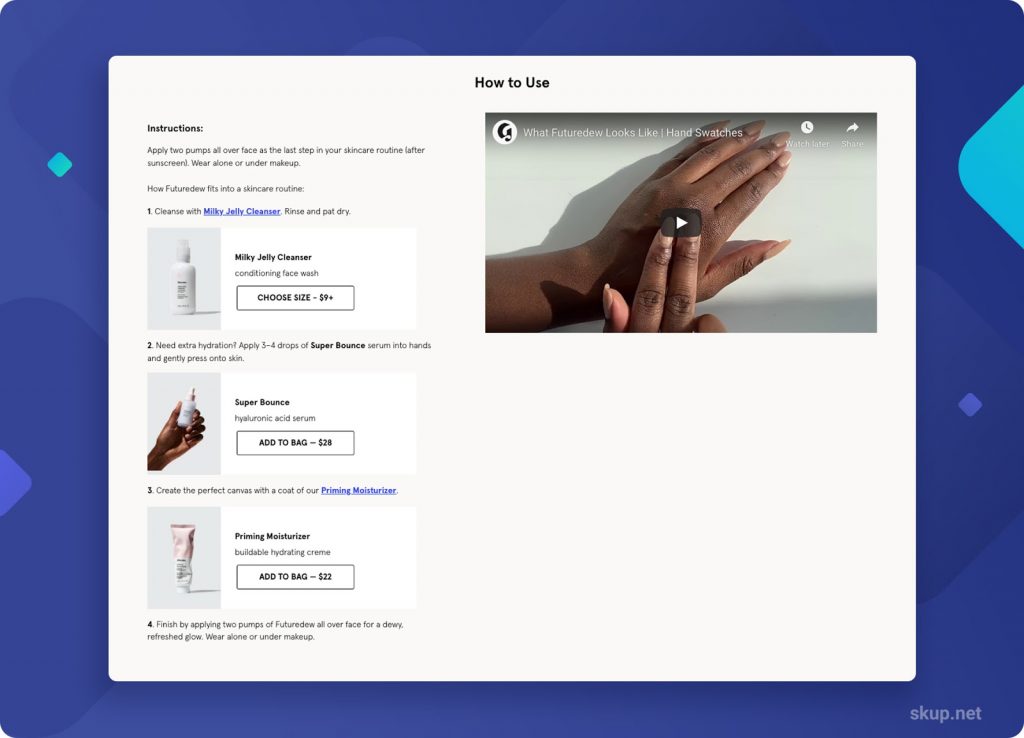 There is a short, straight-to-the-point product description directly above this How To Use section that covers the basics of the product on the page.
The real selling power comes from visually and mentally stimulating the customers.
Not to mention, they've got a good strategy for cross-selling 😉
By including How To Use sections in your product descriptions, your customers can read or watch the content and imagine themselves using the product.
This significantly increases their attraction and want, leading to a purchase.
Price Your Products Competitively
Luckily for you, shoppers on Black Friday have the intent to purchase, so you don't have to worry too much about making sales.
But you still want to provide the best price out there to get those new customers coming back after this holiday weekend.
You can always offer price match guarantees. However you want to make sure your margins can take the additional discounting.
By offering a price match to your customers, you build trust and guarantee the sale over the competition.
Another way to give your customers a fair deal is to research the average discount rate for your particular niche or set of products.
Blackfriday.com has a whole section that displays the most popular deals amongst different categories.
You can check it out to price your products accordingly.
Increasing Your Average Order Value
As I mentioned before, customers coming to your store this weekend have the intent to purchase…
So why not get the most out of each one?
You could bundle complementary products together and offer a slight discount on the set.
Or you could even take Glossier's approach and cross-sell products that will enhance the benefits of the original product.
You can upsell customers with an upgraded version of a product they have in their cart.
Or offer free shipping over a certain threshold (that's easily attainable).
Your options are endless, and I recommend taking the time to strategize a game plan.
To give you some ideas here's to strategies by Moon Juice and Drunk Elephant.
Moon Juice takes its most popular products and bundles them together at a reduced, affordable price.
Yes, they may not be making as much if the items are bought separately. However, they do make it affordable so that each person may potentially purchase – effectively raising the average order value.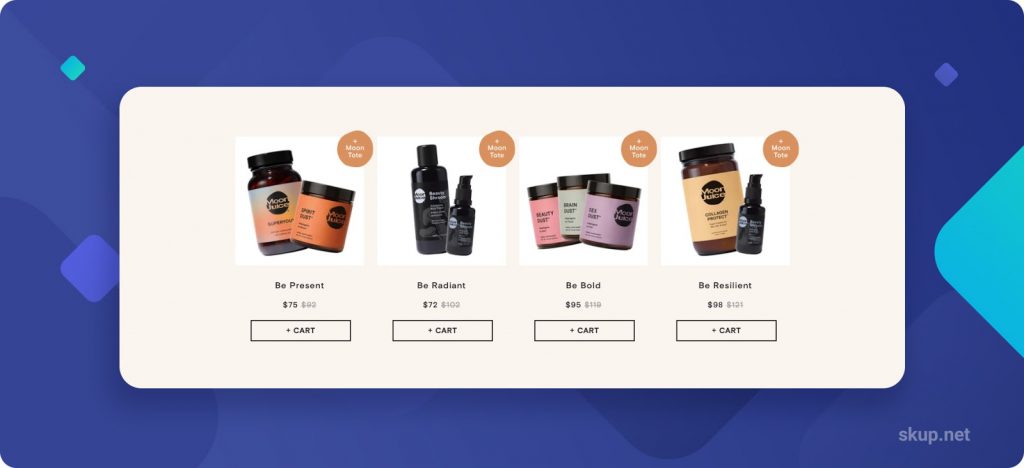 Drunk Elephant's philosophy is structured around using their whole product line in tandem to get the best results.
So naturally, they cross-sell on their product pages to 'Companion Products.'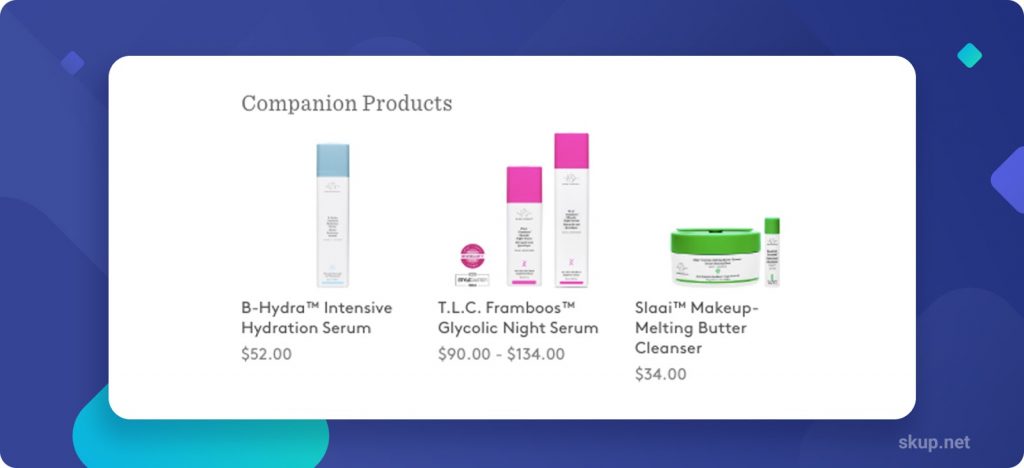 Closing Sales Using Scarcity
I don't have to convince you that using scarcity tactics are the best, proven strategies to get customers to buy now.
It works so well because they work on a psychological level that pushes your customers to act fast.
It plays on the old saying, "you want what you can't have."
And believe me, it can do wonders for your conversion strategy, if done correctly.
And if you don't apply your scarcity strategies correctly, you can risk every sale in your store.
Research has shown that more exposure to scarcity claims makes a person less likely to value that product.
Which is the opposite effect that implementing scarcity is supposed to have.
The same study showed that scarcity tactics are useful only if used subtly.
The best way you can implement scarcity that will perform as intended is to use a countdown timer.
SMART Scarcity seamlessly integrates into your store either as a sticky timer or placed on the product page.
You have options when it comes to SMART Scarcity.
You can choose from a regular timer, perfect for your BFCM campaign, or an evergreen timer that automatically reset once the countdown reaches zero.
So if you want to turn more shoppers into buyers, install SMART Scarcity onto your Shopify store by clicking here.
Your Pre-Launch Campaign
Your customers aren't going to magically come to your store if you don't prime them to beforehand; which is why it's essential to have a pre-launch strategy in place.
You need to start hyping up your current customers and gain new leads early on to ensure you get as much warm traffic to your site as possible.
Banner Images
First things first, throw up a banner image that give previews of what your customers can expect during BFCM.
It will be the first thing a visitor will see coming to your site and will also make it more likely for them to opt-in to your email capture software if they aren't already on your list.
Sephora likes to jump the gun early and begins displaying banners for their value sets in October.
They prime their customers by getting them in the gift-giving spirit and note down prospective items to place on their gifting list.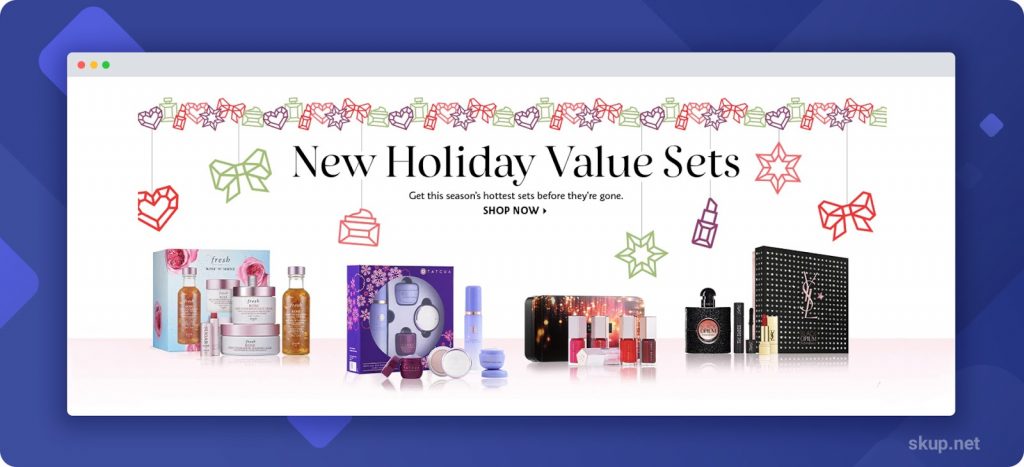 Other spins you could take for your banner images could be just clearly to state what your discounts are or will be.
Bonobos does a great job of using a simple design that displays what the customer gets out of their sale.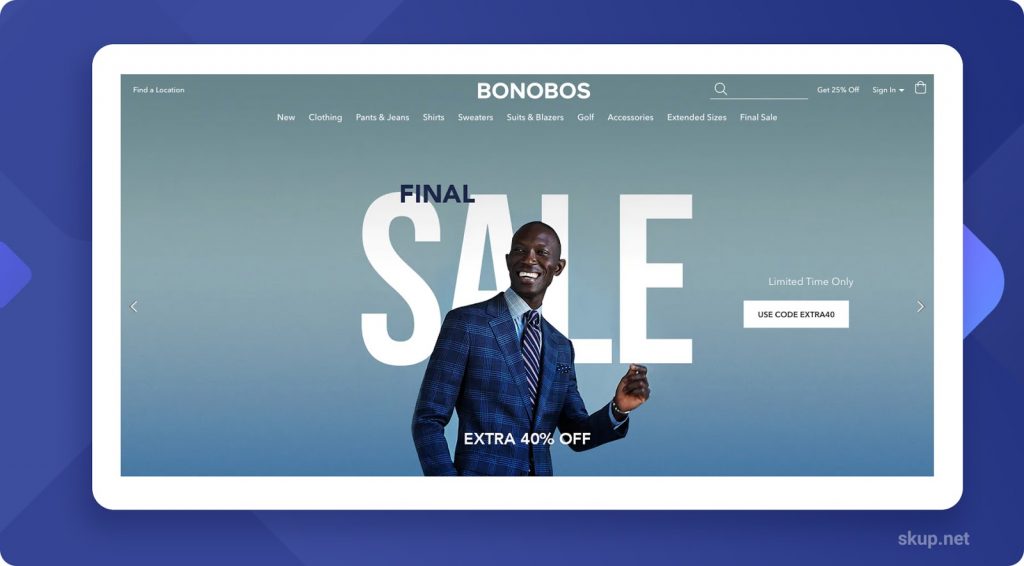 Capturing Leads with Exit-Intent Pop-Ups
Next, the exit intent pop-up.
Now, if you don't have an exit intent pop up for your store yet, I'm going to give you a minute to do that right now.
You need some way to acquire emails to market to, which by the way, is going to be your easiest and most cost-effective marketing campaign this holiday weekend.
And I'm unsure if you've caught on yet, but I've said exit intent pop up multiple times now.
It's going to be critical to your strategy to make sure your pop up appears when a customer is trying to leave your site.
You don't want to interrupt your visitor while they're shopping, or distract them from making a purchase.
You'll be getting their email if they purchase anyways.
Instead, set your pop up to appear on exit intent and phrase it specifically for the BFCM promotion.
"Like what you see? Subscribe now to get special offers and discounts during our Black Friday & Cyber Monday Sales!"
Crafting the Pre-Launch Emails
Your pre-launch email campaigns should begin 3 weeks before your BFCM promotion.
So they should begin early and frequently.
Ethan Griffin, Founder, and CEO of Groove Commerce says that, "This approach helps your brand gain momentum as it approaches the holidays and can re-acquaint your audiences with your products. With inboxes becoming more crowded each holiday season, it's important to get ahead of the competition by planting teasers and incentives."
And don't be afraid of driving unsubscribes.
If you make it fun and start with mini-giveaways or promotions during the weeks leading up to the event, you're going to be driving engagement.
And make sure to A/B test subject lines!
Fall and winter are the busiest seasons people, and you don't want your messages getting lost in the void.
Active Campaign has a subject line generator that's built to generate opens and clicks.
All you have to do is select a keyword category and then enter your keyword to have an email subject line generated in seconds.
Running Pre-Launch Ads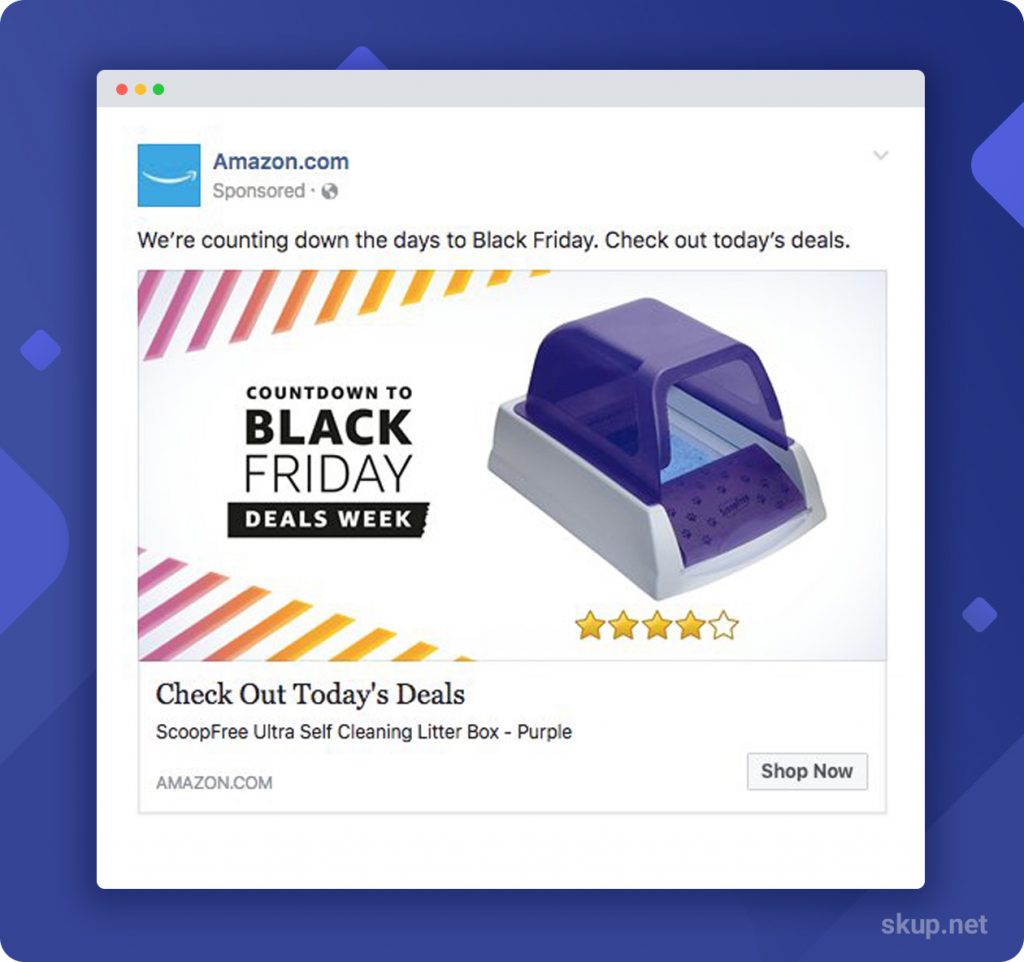 Don't limit your pre-launch outreach to email.
You can extend it to your Facebook marketing campaigns, as well.
Amazon's straightforward approach to its pre-launch advertising is what you should aim for.
Don't exhaust your resources before the main launch.
All you need is some simple copy, social proof, and a clear message.
Launching Your Black Friday & Cyber Monday Campaign
We've finally arrived at the event that will bring in close to 30% of your annual income.
Yes, you read that correctly.
Running a BFCM campaign can potentially earn you 30% of your annual salary if you execute it properly.
Which is what I'm about to show you how to do.
Run an Extended Sale
Most companies now extend their BFCM campaigns well into the first few days of December.
Running extended sales allows you to convert colder customers on the fence about buying from you.
And you don't have to destroy your margins by continuously offering high discounts.
Each additional day can focus on minor promotions such as free shipping, sale on top of sale items, or a standard 10% off.
This way, you can incentivize last-minute buyers to purchase from you.
Your Email Marketing Campaign
Do not, and I repeat, do not overlook your email marketing campaign.
If strategized properly, emails can account for up to 25% of your total sales.
That means that you can acquire customers at a significantly lower cost than running traditional marketing campaigns.
There's just one caveat…
Every other business is going to be sending out email blasts this weekend, so you need to make your emails stand out from the rest.
As I already mentioned, you should start A/B testing your subject lines during your pre-launch campaign, so you know what type of subject lines your customers respond to best.
You need to break through the noise and not only get the attention of your customers but also the click-throughs.
Which will bring me to my next topic: the email schedule.
The timing of your emails is just as critical as the content of the subject line.
The key is to send out 3 emails on each major day:
Thanksgiving
Black Friday
Cyber Monday
Extended Sale Days
And you want to time them, so one gets sent in the morning, afternoon, evening.
Below I've included the schedule that works best for us.
As you can see, only two emails go out on Saturday and Sunday, one of them being focused on a single product.
That product call-out will be centered around the main products you're pushing this weekend with a strong call to action.
Below is an example of what one of your emails should look like.
It contains:
Urgency
Clearly defined offer
Strong call-to-action
You should also segment your lists and offer special offers and promotions to your loyal subscribers.
Whether its an early bird special, extended sale, or a gift with purchase, extend exclusive deals out to those already subscribed to your list.
Your Facebook Campaign
Your Facebook strategy shouldn't focus too much on awareness targeting.
Your main focus with this campaign should be retargeting visitors, viewers, and loyal customers.
You can still target some cold audiences, but reduce your typical awareness strategy by 40-50%.
You should conserve the ad spend on the campaigns that will generate you revenue.
Your best shot at making sales are with those who already know you.
You should start running ads the Monday before Black Friday weekend and aggressively scale the campaigns that are working.
Once Friday comes around, update the copy of the most successful campaigns to focus on BFCM and scale them even more.
Brooklinen, for example, preps their customers by:
Clearly defining their offer & headline
Using an attention-grabbing image
Having a strong 'shop now' call to action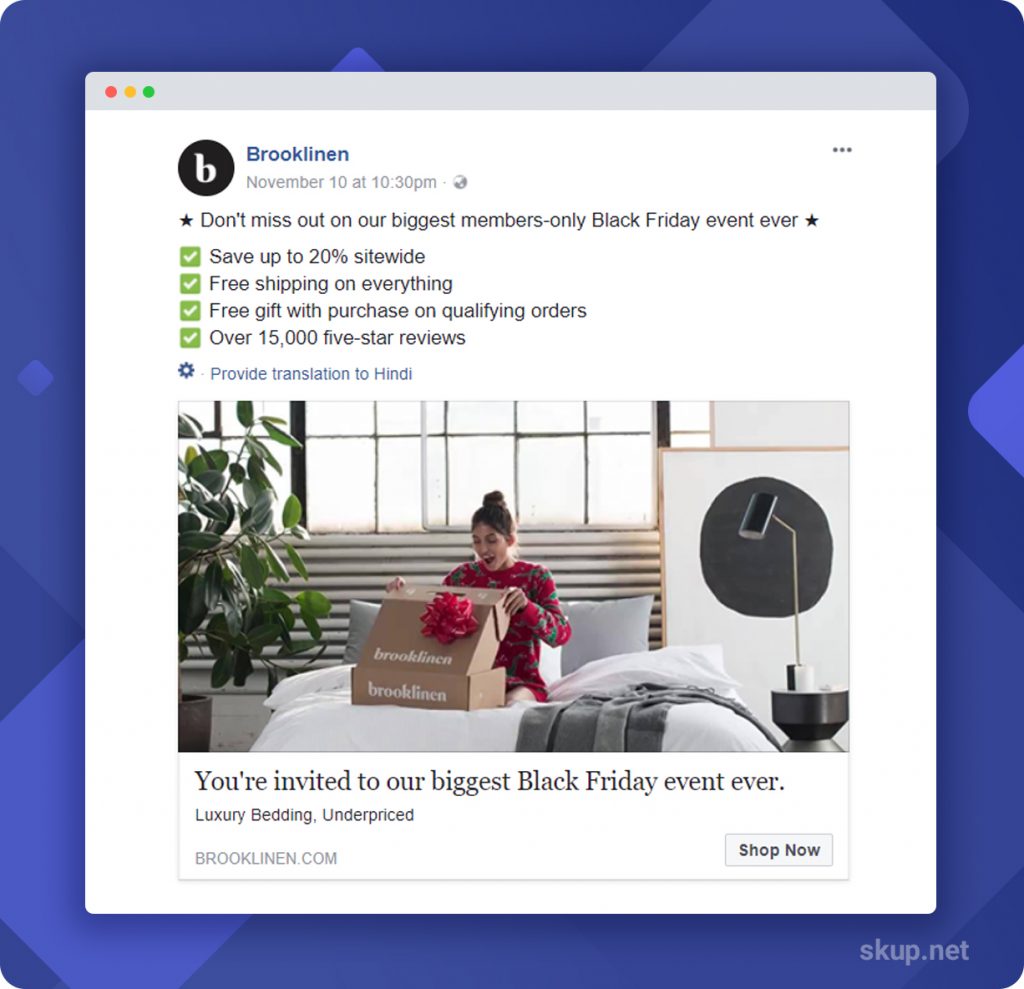 You don't need to spend hundreds of dollars on ad creatives or hours typing up the perfect copy.
Simplicity works best.
Social Media Presence
Each day that your campaign runs, you should make sure you stay top-of-mind with your followers.
Share any user-generated content customers have previously posted to amplify your social proof.
You can even promote specific products and include a link for your followers to shop for it now.
Ultimately, you should post daily updates and sneak peeks of that day's promotion.
Bringing It All Together
We've covered how:
Prepare your store for increased traffic
Set up your offer
Develop your pre-launch campaign
Carry out your BFCM campaign
Now it's up to you to take this information and spin your creative twists to make this weekend as profitable as possible.
Don't forget to download your free Shopify Conversion Checklist to assist you along the way!
And as always, let us know what your favorite strategies are for tackling the holidays in the comments below!